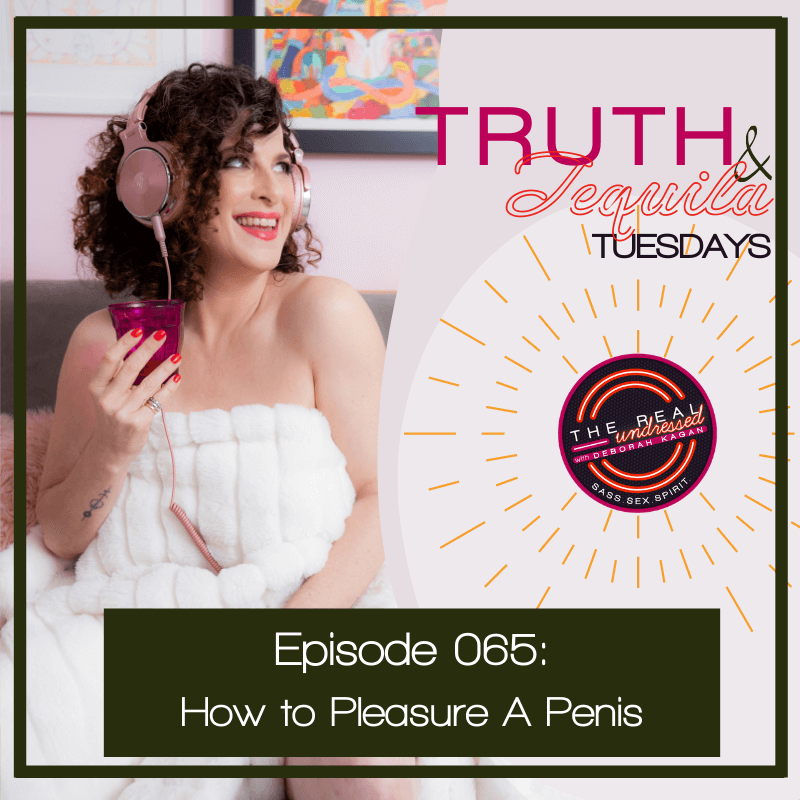 It's Truth + Tequila Tuesday!
This week's questions comes from Carole and she says:
Are there any techniques or movements on how to touch a man's penis to cause a pleasurable experience? I've been using your Mojo tools for a while now and been increasingly feeling better about myself. I grew up with the messages that everything is wrong and bad, especially self pleasure or even worse to touch someone else. And I'm discovering that it's healthy…and there's a whole world to be enjoyed and to have pleasure.
Let me just say, I love this question, and truly, I love The Real Undressed community because all the q's you bring are honest, vulnerable and genuinely seeking evolution….and FREEDOM. Oh my gosh, that's what it's about. Personal freedom to bring your brightest and best self to all aspects of your life.
Remember, if you have a question you'd like considered for an upcoming Truth + Tequila episode, go to
And click submit your Q on the Truth + Tequila image.
The Real Undressed is here to inspire you to get free…in whatever way, shape or form that takes.
If you're digging the podcast, please take 60 seconds and subscribe on Spotify or Apple and leave a 5 star rating. And if you really want to let your mojo shine, leave a review. They make the world of difference in helping this show grow and reach the people who need it most.
Make sure you tune in on Friday for a full episode with med student and sexual science researcher, Rainey Horwitz.
As always, thanks for getting undressed with me.
===
RESOURCES
http://www.RockYourMojoLive.com 
THE live event online to get direct access to the tools, practices and community to support your mojo power. It's happening OCTOBER 2 – 4th. Reserve your spot now.
Lifetime membership to THE Mojo archive with 100s of audios, videos, pdfs, worksheets and resources to get and keep your Mojo flowing.
http://www.TheRealUndressed.com
THE hub for all episodes of the podcast PLUS access your free Mojo Meditation and guide
Episode 062 with Cindy Gallop, founder and CEO of Make Love Not Porn.