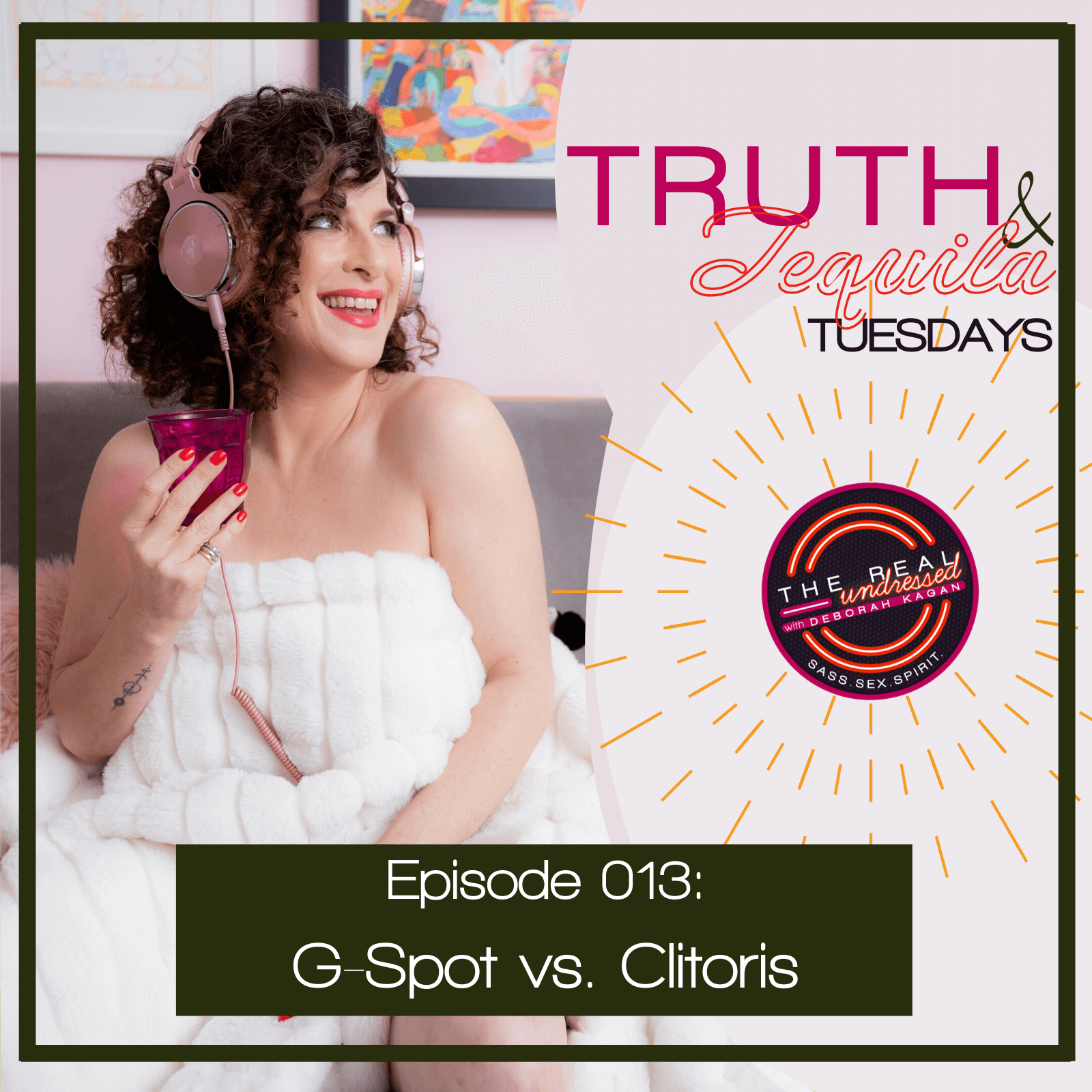 Welcome to Truth + Tequila!
These episodes are dedicated to answering any and all questions you have navigating the areas of spirit, sex and of course, igniting your mojo.
This week's question comes from an Anonymous listener, who says:
Is my clitoris and my g-spot the same thing?  And, just what exactly does "g" stand for?
This is a GREAT QUESTION because both women and men are confused by this.  Since we're talking about female anatomy here – Ladies, it's vitally important to know about your own mechanics.  Not only can you be more in touch with yourself (literally and figuratively), when you are, you can then clearly and concisely let your partner know where to touch you for maximum pleasure.
And for all my Mojo Men, if you're interested in women, please take note here.  We want you to know how we work.  It's more fun for us and so much more fun for you in the end too.
Listen in to learn:
– the difference between the clitoris and the g-spot
– the key accessory to a clitoris
– different styles and ways to bring pleasure to these areas
– the key to experimentation and the surprise tip that makes ALL the difference
As always, these episodes are FOR YOU.
And they are driven by your needs and desires to discover YOUR truth.
To have your question considered for an upcoming Truth + Tequila episode,
Go to therealundressed.com
And click on the Truth + Tequila image to submit your question.
The Real Undressed is here to inspire you to get free…in whatever way, shape or form that takes.
We'll see you Friday for a full episode and a deep dive into sexual anatomy and the pelvic floor with PhD scholar and somatic educator, Ellen Heed.
=====
My friends out there in Mojo Nation!
I love giving gifts and I've got something super mojolicious for you.
Every week we're running a raffle giving away A PAIR of tickets to the upcoming live event, Rock Your Mojo Live! The two and half day experiential event for women and men ready to ignite their mojo.
It's happening in Los Angeles this April.
Here's how to enter the giveaway contest:
4 simple steps:
Subscribe to the podcast
Rate AND Review it
Take a screen shot showing you did #s 1&2
Post the screen shot on IG or FB making sure to TAG @deborahkagan and @therealundressed
(if you don't do social, email the image to hello@therealundressed.com)
One lucky winner will be randomly drawn every MONDAY. We'll announce it on social and tag you 😉
All right, Mojonation…as always, thanks for getting undressed with me.