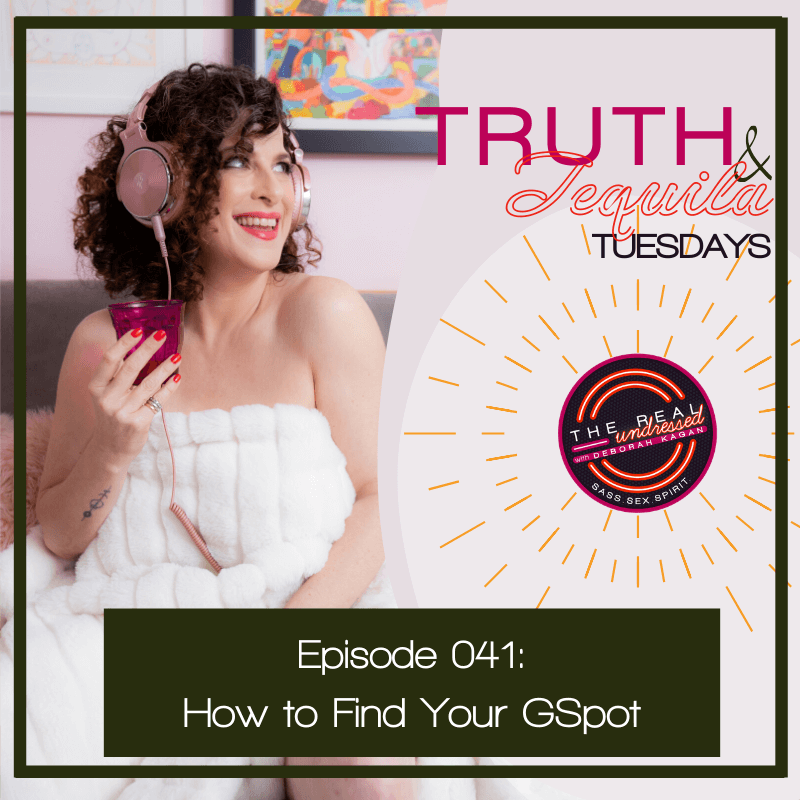 Welcome to Truth + Tequila!
These episodes are dedicated to answering any and all questions you have navigating the areas of spirit, sex and of course, igniting your mojo.
This week's question comes from an Anonymous listener, who simply says:
I've heard you talk about the clit vs. Gspot…how do you find your Gspot? How do you discover it – it seems really difficult. What is the process?
Glad you asked…this is a common question and it sounds like you listened to Episode 13 where I shared the difference between the clit and the GSpot. For those of you who haven't heard that one yet, it's a helpful resource on this topic as well.
However, in this episode, we'll get into the specifics of finding your GSpot.
The truth is – finding your Gspot is an adventure. It might not happen right away and my recommendation to you is to be curious, full of self love and willing to take your time…even giving yourself multiple times of investigation. It might take that before you eventually find it.
Anatomically, the GSpot is located on the anterior wall of the vagina. That's the front side, towards your belly. It's approximately one to two knuckle lengths inside from the vaginal opening. It has a distinct feel as well. It's ridged and sponge like vs. the smooth, slick feeling of the vaginal walls.
I recommend discovering your Gspot in two ways.
One: with your fingers
Two: with a Gspot dildo
I suggest your fingers because that's the most direct way to literally get in touch with it. You'll know the spot with clarity and get an understanding of it's size this way.
It's as simple as inserting one or more fingers and begin to feel around. Using a slight hook motion with your finger can be helpful to get them to tilt and find a better angle for the Gspot.
Once you discover it manually, the next step is to use a dildo made specifically for the GSpot. These are curved up a bit on the end making that hook motion I mentioned. My personal fave is a glass GSpot dildo….and I know many other women experience great results with it as well. Use the dildo and play around with different strokes, varying the pressure, speed, etc. Notice what brings your Gspot alive and what shuts it down.
The first time you get stimulated to the point of a Gspot orgasm, it might feel odd and potentially uncomfortable even though it's also pleasurable. Breathe through the sensations.
IF you get to an orgasm, great. If not, great.
There's no place to 'get' to with sexual self discovery. As the cliché saying goes, it's about the journey, not the destination.
Simply have fun!
As always, these episodes are FOR YOU.
And they are driven by your needs and desires to discover YOUR truth.
To have your question considered for an upcoming Truth + Tequila episode, go to
https://www.therealundressed.com
And click submit your Q on the Truth + Tequila image.
The Real Undressed is here to inspire you to get free…in whatever way, shape or form that takes.
If you're digging the episode, please take 60 seconds and subscribe to the podcast on Spotify or Apple and leave a 5 star rating. And if you really want to let your mojo shine, leave a review. They make the world of difference in helping this show grow and reach the people who need it most.
We'll see you Friday for a full episode with artist, activist, entrepreneur and founder of My Little Yoni, Ariel White.
As always, thanks for getting undressed with me.