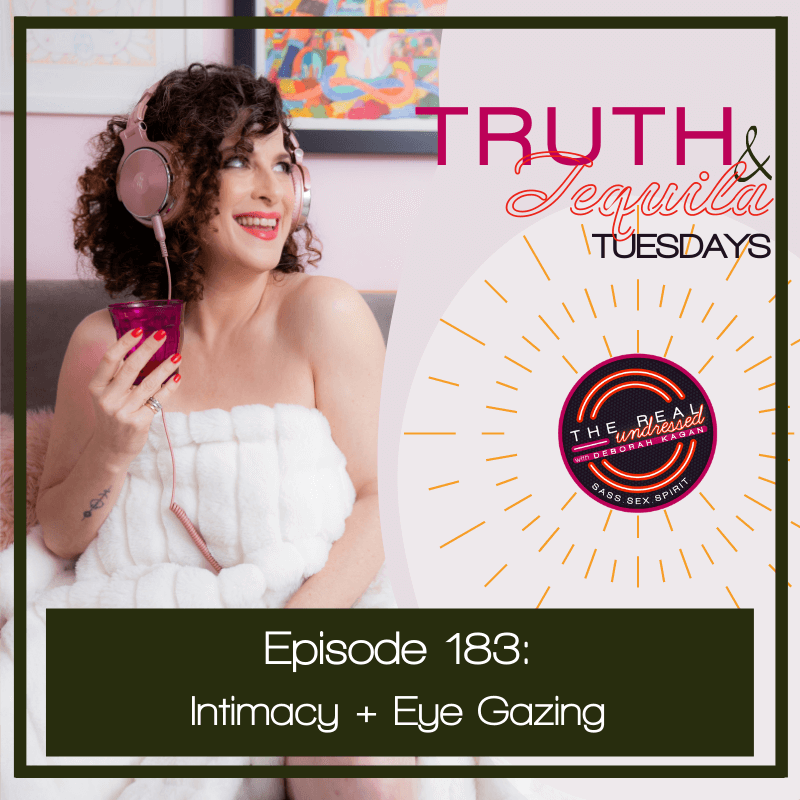 It's Truth + Tequila Tuesday!
This week's questions comes from Nicole and she says:
My husband and I have been together for over 20 years. I'm the kind of person that if I'm talking to you, I would like to look at you in the eyes. But this is challenging for my husband, he'll look out the window or someplace else. And says that he doesn't need to look at me to be actively listening. It feels so weird to me though. I don't feel ignored. I can say that, but it doesn't feel right when I'm talking to somebody who's constantly avoiding your eye contact. Is this normal? What can I do?
Thanks for this question, Nicole. It's a perfect one for The Real Undressed and here's why – avoiding eye contact IS a fear of getting undressed in the figurative sense.
Remember, if you have a question you'd like considered for an upcoming Truth + Tequila episode, go to
And click submit your Q on the Truth + Tequila image.
The Real Undressed is here to inspire you to get free…in whatever way, shape or form that takes.
If you're digging the podcast, please take 60 seconds and subscribe on Spotify or Apple and leave a 5 star rating. And if you really want to let your mojo shine, leave a review. They make the world of difference in helping this show grow and reach the people who need it most.
As always, thanks for getting undressed with me.
===
RESOURCES
http://mojo.deborah-kagan.com/mentoring
Curious what could happen when you're personally mentored by Deborah? Click the link and fill out this simple form fora chance to have a Mini Mojo session now.
Lifetime membership to THE Mojo archive with 100s of audios, videos, pdfs, worksheets and resources to get and keep your Mojo flowing.
http://www.TheRealUndressed.com
THE hub for all episodes of the podcast PLUS access your free Mojo Meditation and guide