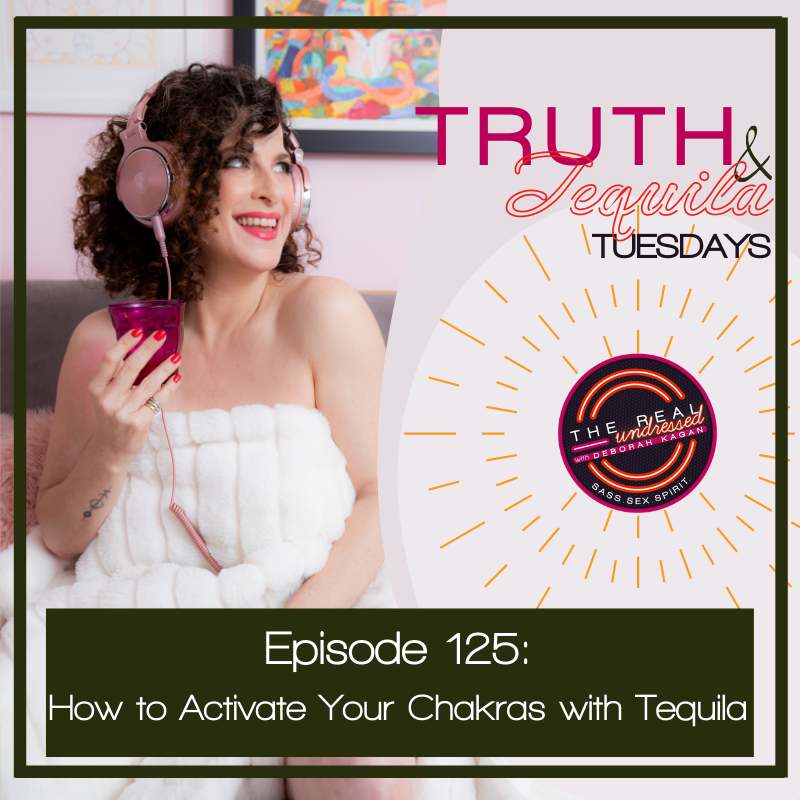 Welcome to Truth + Tequila!
These episodes are dedicated to answering any and all questions you have navigating the areas of spirit, sex and of course, igniting your mojo.
This week – in honor of the episode dropping week of Cinco de Mayo, instead of a Q&A episode, I want to get undressed a bit more with you and talk about one of my favorite things – TEQUILA!
It wasn't always a favorite…I mean, I feel like it's fair to say that many of us have an infamous tequila story, the one where we had WAY too much of it and probably the cheap, bad kind. Cuz let's face it, not all tequila is equal.
Today, in honor of the Cinco de Mayo celebration, let's talk about the art of tequila and how it can elevate both your spirit and your sex.
=== > TUNE IN for the details and a very mojolicious ritual.
Have fun with it and send me a DM on Instagram to let me know about YOUR tequila experience.
The Real Undressed is here to inspire you to get free…in whatever way, shape or form that takes.
If you're digging the episode, please take 60 seconds and subscribe to the podcast on Spotify or Apple and leave a 5 star rating. And if you really want to let your mojo shine, leave a review. They make the world of difference in helping this show grow and reach the people who need it most.
We'll see you Friday for a full episode with certified somatic sex educator, sexological bodyworker, full-spectrum doula, and pelvic health practitioner and Chief Brand Officer at Foria, Kiana Reeves.
As always, thanks for getting undressed with me.
*****
Deborah Recommends:
Tequila
http://adictivotequila.com/en/
https://greenbardistillery.com/ixatequila/
https://www.casamigos.com/en-us/
https://www.oldtowntequila.com/dos-artes-reserva-especial-one-liter-extra-anejo-tequila-ceramic-bottle/
Mezcal
https://www.papadiablo.mx/mezcal-papadiablo-english.html
*****
Connect with Deborah
Website | https://therealundressed.com/
Instagram | https://www.instagram.com/therealundressed/
https://www.instagram.com/deborahkagan/
Facebook | https://www.facebook.com/mojorecoveryspecialist/
Subscribe to The Real Undressed Podcast
iTunes | https://podcasts.apple.com/us/podcast/the-real-undressed-with-deborah-kagan/id1494643770
Spotify | https://open.spotify.com/show/1eOQaw6kryBsXo7Jb6qEnv
Please remember to:
the podcast. I read every single one and your feedback is valuable.