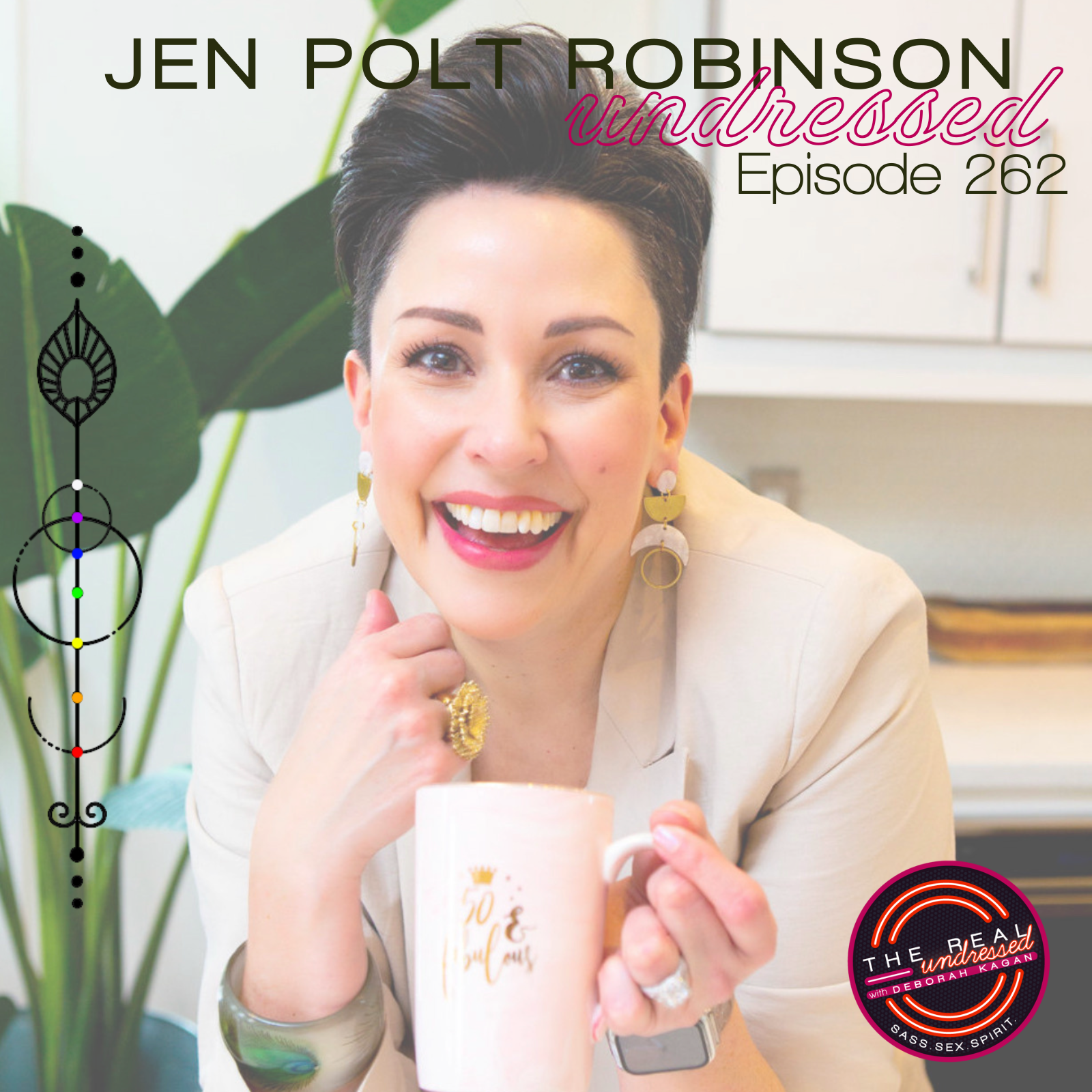 If you could design a best friend who was equal parts motivational speaker, beauty expert, style coach and comedian—then you would have my guest today, Jen Polt Robinson. With a 25 year background in sales, training and coaching, she balances a career as a full time beauty industry exec alongside a full time gig as a social media creator and "unexpected influencer". What started as a pandemic project and a challenge to her 50-something self, her platforms, known as Making Up for Glossed Time, feature her hilarious and relatable takes on fashion ("a big handbag makes your ass look smaller"), beauty ("use your magnifying mirror to pluck your eyebrows and then get the hell outta there"), and life ("I'm 51 and I still don't know what I want to be when I grow up"). Her community of over 100,000 follow her for her messages of radical self love, her self-deprecating humor, and her BFF-like delivery. She's helping women embrace the joy in the journey thorough midlife, find their fabulous again, and encouraging them to take risks and turn the dial up in their second half. The ultimate hype woman, her individuality is her superpower and she's on a mission to help you find yours.
In this episode we speak about everything from:
~ what it takes to have unshakable confidence
~ the pivotal moment that opened Jen up to trusting her gut and following her intuition
~ the key things in her spiritual toolbox to enhance mojo
~ the thing women get hung up on (and how to NOT have that struggle)
~ how embracing your fashion style can free your creativity, self-expression and sensuality
~ and much more!
Connect with Jen Polt Robinson
Instagram | https://www.instagram.com/makingupforglossedtime
Facebook | https://www.facebook.com/makingupforglossedtime
*****
ROCK YOUR MOJO BOOKCLUB
Have you considered what it would be like if:
You felt an unshakable connection to your Higher Self?
You honored your sensual + s3xual nature?
You released disempowering beliefs about your worth as a    woman?
You learned to adore your body and all she's capable of?
You could genuinely enjoy pleasure for pleasure's sake?
You experienced joy around s3xual exploration (instead of shame)?
You trusted your Soul's path and expression?
It's fair to say that you would be living your MOST MOJOLICIOUS LIFE!
Are you ready for MORE?!
Curious? Get all the deets here:
http://mojo.deborah-kagan.com/bookclub
*****
Connect with Deborah
Website | https://therealundressed.com/
Instagram | https://www.instagram.com/therealundressed/
https://www.instagram.com/deborahkagan/
Facebook | https://www.facebook.com/mojorecoveryspecialist/
Subscribe to The Real Undressed Podcast
iTunes | https://podcasts.apple.com/us/podcast/the-real-undressed-with-deborah-kagan/id1494643770
Spotify | https://open.spotify.com/show/1eOQaw6kryBsXo7Jb6qEnv
Please remember to:
the podcast. I read every single one and your feedback is valuable.