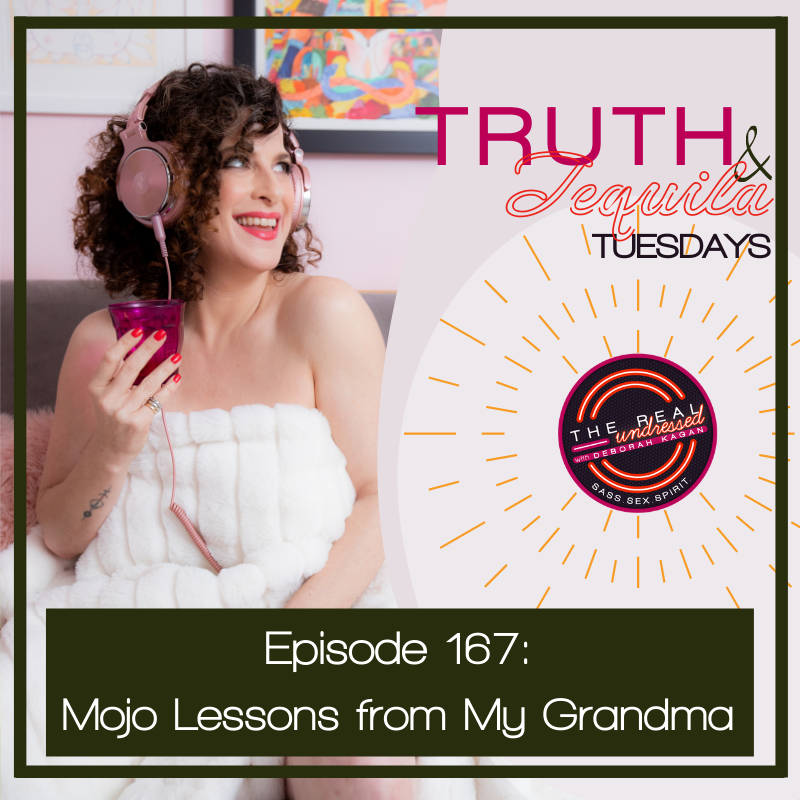 Welcome to Truth + Tequila!
These episodes are dedicated to answering any and all questions you have navigating the areas of spirit, sex and of course, igniting your mojo. AND every so often they are here to offer you a nugget or two of pure unadulterated mojo….and today's episode is just that.
Today was my Grandmother's birthday.
She's been gone for 23 years…but she's always present in my heart. For those of you who've been around a while, you know that my Grandma was 'my everything,'…..AND the bulk of what I do is inspired by her.
===> TUNE IN to hear the Mojo Lessons from Grandma
*****
MENTORING + FREE MOJO CHECK LIST 
Burnt out and Stressed?
Disconnected from your body?
Lost your enthusiasm for life?
Craving confidence + feminine radiance?
You need to talk with me ASAP.
You are being gifted with an opportunity to have a complimentary Mojo Mentoring session with me*. And yes, we can uncover what's in the way and ignite your mojo…PLUS, as soon as you book your call, you receive a FREE Mojo Check List to get your engines revved right away.
Click the link and reserve your spot now:
https://mojo.deborah-kagan.com/mentoring
* a limited number of sessions are available
*****
Connect with Deborah
Website | https://therealundressed.com/
Instagram | https://www.instagram.com/therealundressed/
https://www.instagram.com/deborahkagan/
Facebook | https://www.facebook.com/mojorecoveryspecialist/
Subscribe to The Real Undressed Podcast
iTunes | https://podcasts.apple.com/us/podcast/the-real-undressed-with-deborah-kagan/id1494643770
Spotify | https://open.spotify.com/show/1eOQaw6kryBsXo7Jb6qEnv
Please remember to:
the podcast. I read every single one and your feedback is valuable.
As always, thanks for getting undressed with me.