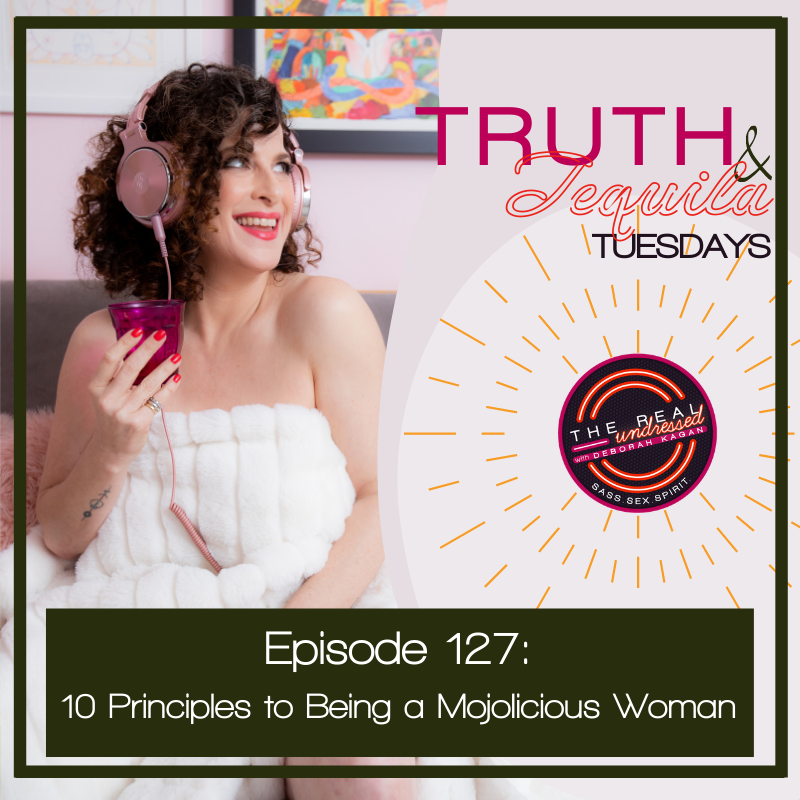 It's Truth + Tequila Tuesday!
These episodes are dedicated to answering any and all questions you have navigating the areas of spirit, sex and of course, igniting your mojo. AND every so often they are here to offer you a nugget or two of pure unadulterated mojo.
This week I wanted to share the 10 principles to Being a Mojolicious Woman. Ladies, as you listen to these, notice which ones you already possess and which ones there's room to grow in. Gents, as you listen, think about noticing these qualities in your woman or the women you're considering being involved with. You're all here interested in creating a mojolicious life— and these principles are critical in forming a solid foundation.
====> Tune in to the episode for the 10 Principles
Being a Mojolicious woman means that you experience more joy on a daily basis, and when you have more joy on a daily basis, you have better health and you're more available to your friends, to family and your tribe. You're more available. There's a spaciousness and a light that shines within you. Which is, well, MOJOLICIOUS!
Curious to know which of these you already possess and which ones you're committing to cultivating. DM me on Instagram to let me know.
The Real Undressed is here to inspire you to get free…in whatever way, shape or form that takes.
If you're digging the episode, please take 60 seconds and subscribe to the podcast on Spotify or Apple and leave a 5 star rating. And if you really want to let your mojo shine, leave a review. They make the world of difference in helping this show grow and reach the people who need it most.
We'll see you Friday for a full episode with Los Angeles Yoga Leader, Youtuber and Artist, Matthew Reyes.
As always, thanks for getting undressed with me.