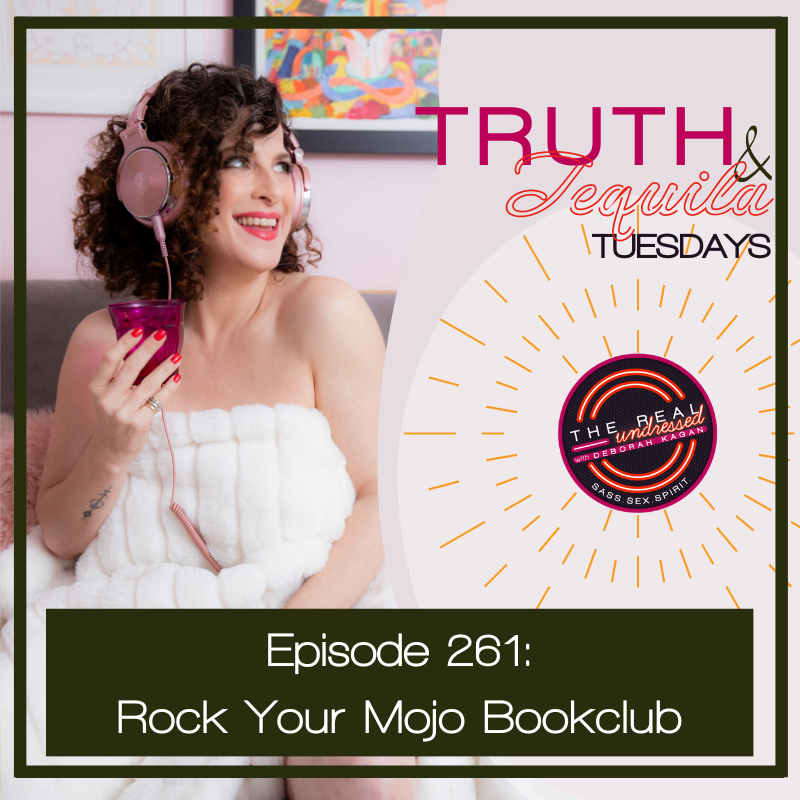 It's Truth + Tequila Tuesday!
And mmmm, mmm! It's some very fine agave spirit this week happening at Mojo Central. Cheers to you! Glad you're here.
This week is dedicated to sharing some #mojotruth and it's this:
How much PLEASURE are you willing to experience?
It's an important thing to answer…and I invite you to strip down and be radically honest with yourself.
It's a racey thing to be willing to experience unlimited PLEASURE.
To be someone who's fully open to life, abundance, joy, vitality and more takes practice.
It's not the 'norm', however, it can be YOUR NEW NORMAL.
If your ears are perked and your mojo is starting to tingle….GOOD!
Let's gather + grow your MOJO this year!
You're officially invited to the Rock Your Mojo Bookclub!
Yep. It's a brand new offering from Mojo Central.
The Rock Your Mojo Book Club is the space where we come together for gathering, sisterhood, sharing, expansion and growth.
Once a month we explore a book on the topic of spirit, s-e-x or a combination of the two. These are books that have personally inspired and educated me. Some are 'classics' and others are contemporary must-reads.
The topics are what we speak about every week on The Real Undressed podcast – – – and now you can join in for a deep dive on these topics.
Conversations about these topics offer you:
Personal freedom
Connection to your higher power
Confidence in mind, body and spirit
Authentic Self Esteem (in and out of the bedroom)
The knowing that you are not alone
Ease and grace with intimacy (with yourself and others)
Permission to be playful
Relatedness to your vibration (and ability to consistently stay in a high vibe mode)
And much more!
Check it all out you go to: mojo.deborah-kagan.com/bookclub
It's so simple to participate. Each month, we connect in circle (virtually) for a round table discussion of the current months book. You receive a thought provoking worksheet to guide your exploration and take notes.
Why join the Book Club?
The more awakened you want to be, the more education + guidance required.
Life automatically brings many challenges. Going it alone is a choice.
With guidance, connection, support and wisdom from someone who is further ahead on the path you desire, you can move forward faster and with increased ease and grace.
This is your opportunity to connect with an expert each month who holds space for your highest self.
This is your chance to focus on your spiritual and s3xual awakening (with sustained support).
This is your possibility for massive breakthrough (and celebrate it with a tribe of like-minded women).
You can join for one session or get the All Access Pass.
Check out the entire schedule of books and reserve your spot at:
mojo.deborah-kagan.com/bookclub
Doesn't that sound, well? Mojolicious?
I'll let you in on a secret…becoming the woman who experiences pleasure, abundance, and mojo daily is easier than you think. Truly.
That's why I want you to know you about the Rock Your Mojo Bookclub.
It's an easy container for you this year where we can connect and YOU get to step into your power, pleasure and positivity. I'm super excited to share it with you.
Get all the details at mojo.deborah-kagan.com/bookclub
OK.
If you're digging the podcast, please take 60 seconds and subscribe, follow, rate and/or review the show on this listening platform. Each action you take makes a world of difference in helping this show grow and reach the people who need it most.
The Real Undressed is here to inspire you to get free…in whatever way, shape or form that takes.
Tune in on Friday for a full episode with our next guest.
As always, thanks for getting undressed with me.