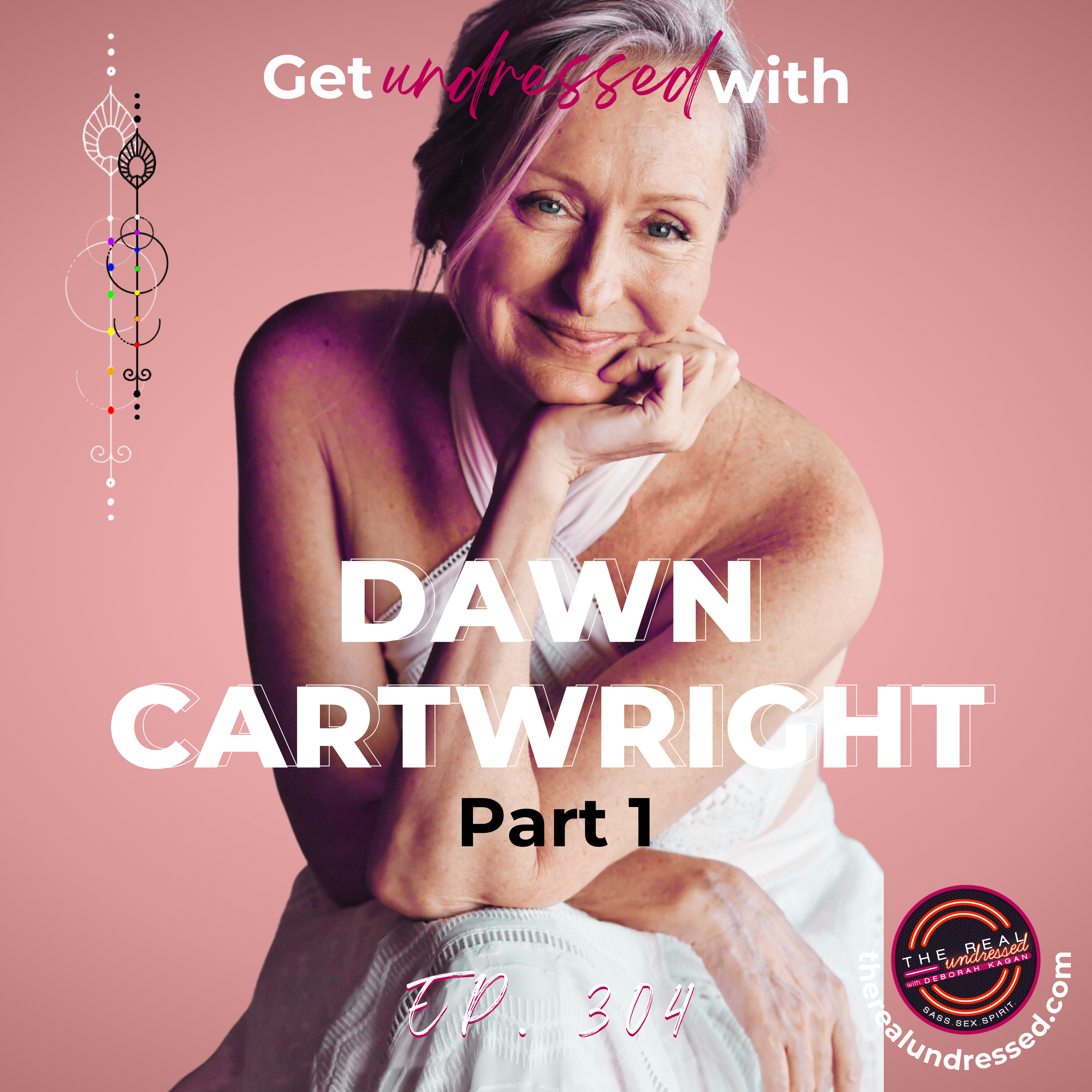 In this episode of The Real Undressed, host Deborah Kagan is joined by Dawn Cartwright, a renowned tantra expert and founder of the Chandu Bindu Tantra Institute. With over 30 years of experience in supporting individuals and couples in igniting their sexual energy and reaching their highest potential, Dawn shares her wisdom and insights on conscious communication, ecstatic states, and the power of tantra.
In this episode you'll get to:
~ hear about how Dawn's fascination with sex and pleasure started at a young age, leading her on a lifelong journey of exploration and self-discovery.
~ listen to Dawn explain how she became her own best lover (and how you can too) plus, the profound impact it had on her relationships and sexuality.
~ understand the importance of embracing our emotions and allowing them to enhance our sexual experiences.
~ be surprised when Dawn debunks the myth that pleasure is solely genital-focused, highlighting the full-body potential for pleasure and orgasm.
~ learn about the powerful connection between pleasure and being fully seen and accepted.
~ discover how to navigate discomfort and pain during intimate moments by focusing on the pleasurable aspects of the experience.
~ learn the significance of cultivating self-awareness and openness in order to truly connect with yourself and your partner.
~ be inspired by the invitation to fully embrace your body and pleasure, and the transformative effect it can have on your life.
~ and much more!
Connect with Dawn Cartwright
Website |    https://dawncartwright.com
Facebook |    https://www.facebook.com/dawn.cartwright1/ 
Instagram |    https://www.instagram.com/dawncartwright/ 
LinkedIn |    https://www.linkedin.com/in/dawn-cartwright-b8591b10/ 
*****
FREE GUIDED BREATH TECHNIQUE
Turn your fear into Faith.
Your Stress into Serenity.
Your Anxiety into Assurance.
Your Misfortune into Mojo.
https://www.therealundressed.com/breathe
*****
Connect with Deborah
Website | https://therealundressed.com/
Instagram | https://www.instagram.com/therealundressed/
  https://www.instagram.com/deborahkagan/
Facebook | https://www.facebook.com/mojorecoveryspecialist/
Subscribe to The Real Undressed Podcast
iTunes | https://podcasts.apple.com/us/podcast/the-real-undressed-with-deborah-kagan/id1494643770
Spotify | https://open.spotify.com/show/1eOQaw6kryBsXo7Jb6qEnv
Please remember to:
è Subscribe
è Rate
è Review
the podcast. I read every single one and your feedback is valuable.