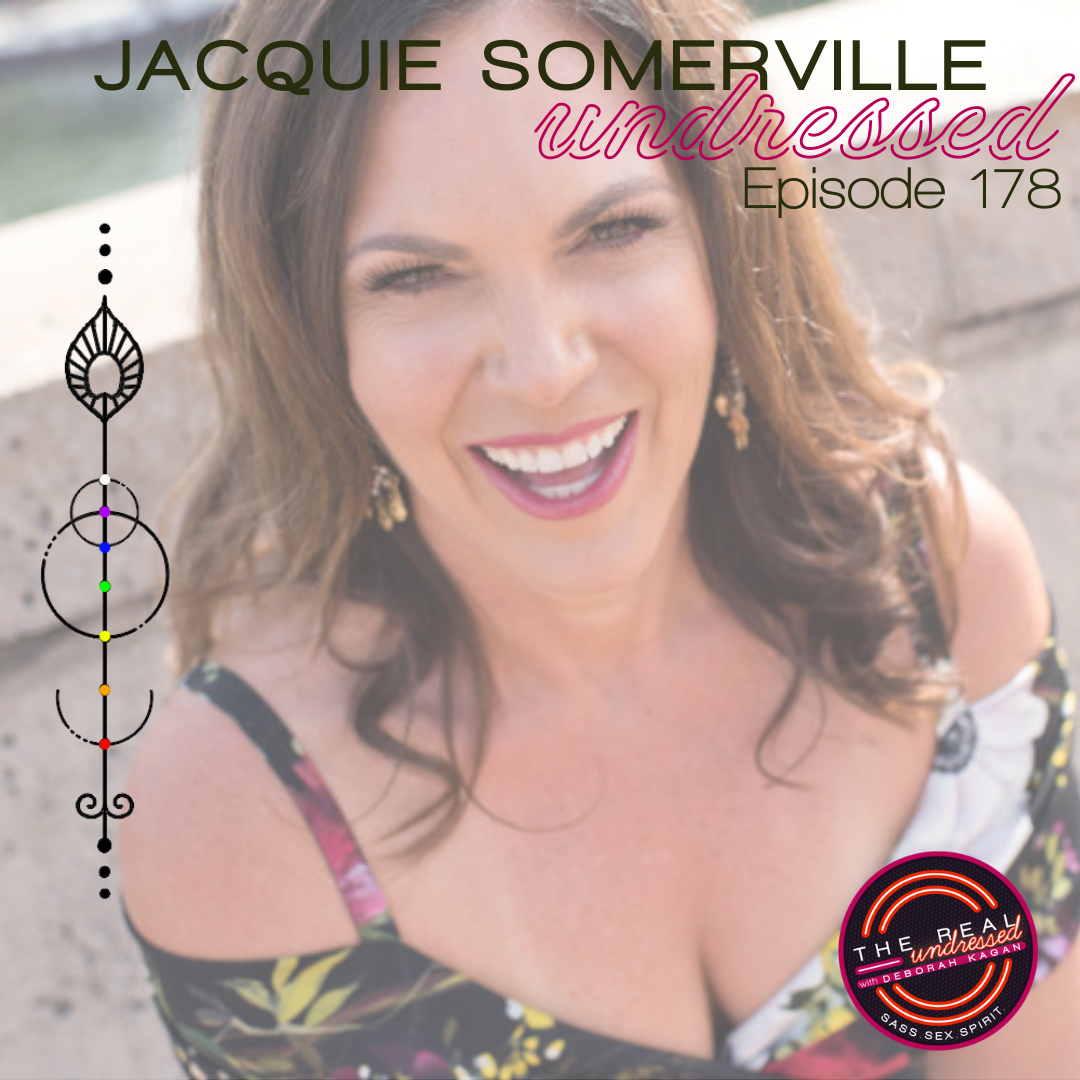 Jacquie Somerville is a best-selling author, speaker, and renowned passion coach. She empowers women to become confident, sexy magnets to the life and love that sets their souls on fire!
Jacquie teaches that the perfect combination of love, sex and romance motivates us like nothing else. When we tap into passion, we can unleash our staggering potential.
She draws on a lifetime of pushing the envelope and challenging the status quo. She's been married a few times, immigrated twice, been fat, slim, broke, rich, and followed her gut to a passionate life of excitement, love, wealth, and adventure.
In this episode we speak about everything from:
~ the interplay of masculine + feminine energies
~ why she prefers sleeping with younger men (and the main reason will surprise you)
~ the possibility of experiencing love during a one night stand
~ her motto for life (and THIS is a game changer)
~ the ONE critical question to ask yourself regularly to create super sexy, strong relationships
~ her spiritual journey (it involves horses, nature and G-d)
~ body image and how it can deprive you of fabulous sex
~ and much more!
Connect with Jacquie Somerville
Website |  http://www.jacquiesomerville.com
Instagram |   https://www.instagram.com/jacquiesomerville/
Facebook |  https://www.facebook.com/jacquiesomerville
Youtube | https://www.youtube.com/channel/UCoae9HvDTysp0RHxuYEvxgg
*****
MENTORING + FREE MOJO CHECK LIST 
Burnt out and Stressed?
Disconnected from your body?
Lost your enthusiasm for life?
Craving confidence + feminine radiance?
You need to talk with me ASAP.
You are being gifted with an opportunity to have a complimentary Mojo Mentoring session with me*. And yes, we can uncover what's in the way and ignite your mojo…PLUS, as soon as you book your call, you receive a FREE Mojo Check List to get your engines revved right away.
Click the link and reserve your spot now:
https://mojo.deborah-kagan.com/mentoring
* a limited number of sessions are available
*****
Connect with Deborah
Website | https://therealundressed.com/
Instagram | https://www.instagram.com/therealundressed/
https://www.instagram.com/deborahkagan/
Facebook | https://www.facebook.com/mojorecoveryspecialist/
Subscribe to The Real Undressed Podcast
iTunes | https://podcasts.apple.com/us/podcast/the-real-undressed-with-deborah-kagan/id1494643770
Spotify | https://open.spotify.com/show/1eOQaw6kryBsXo7Jb6qEnv
Please remember to:
the podcast. I read every single one and your feedback is valuable.